About 2 weeks ago I posted
Lunch notes
if you missed it. It shares different kinds of lunch notes and a printable.
While cleaning out my scrapbook paper I had a brilliant idea. Why use post-it notes everyday and throw them away when I you can use something that can be reused? So I decided to find some papers that weren't too girly and use it for some reusable lunch notes.
I chose a print and a solid, stuck them together with some of my scrapbook stuff, then laminated them.
I use overhead projection markers because they don't come off quite as easily as dry erase.
Drop it in the bottom of his lunch bag, and it makes for a happy little guy.
He loves these notes! One day he didn't realize it was there and was upset, I told him to double check the bottom, and he was so excited to know I hadn't forgotten.
The great thing about these is that you can make them whatever size you want, and have free range at what you put on them. You could even drop them in your hubby's/boyfriend's lunch box for a nice little surprise.
Enjoy, be sure to share your favorite crafts on Mondays at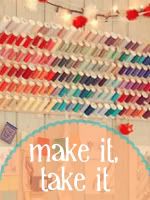 See you soon! Love, BJ