If you are ever in need of a super yummy breakfast casserole, this is the one for you! I had this many years ago at a pot luck breakfast, it was so delicious, I had to get the recipe, now anytime I get the chance to make it, I do!
What you'll need:
10 eggs
3 tbsp sour cream
salt & pepper
1/2 lb mild sausage
1/2 lb hot sausage
1 bell pepper, chopped
1 medium onion, chipped
sliced mushrooms
1 can Ro-Tel tomatoes
8 oz Velveeta cheese
8 oz cheddar cheese
8 oz mozzarella cheese
In blender, do quickly the eggs, sour cream, salt and pepper. Pour into a 9x13 inch greased dish. Bake 7 minutes @ 400 degrees.
Saute the sausage, bell pepper, onion and mushrooms; drain well. Add Ro-Tel
Pour this over egg mixture. Melt together the 3 cheeses and spread over the top
Refrigerate overnight. Bake, uncovered at 350 degrees until hot and bubbly, and ENJOY!!
If you have any great recipes or are looking for something yummy today, go over and check out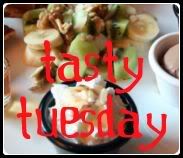 Have a delicious day!!!