I am so excited about this one!!!
FTLOB
is hosting a
Holiday Craft Extravaganza for Easter/Passover
. What is that you say? It will be a place where you can link up your Easter/ Passover crafts, recipes, home decor etc. anything Easter/ Passover related. Pretty cool, right? I think it will be awesome to go link all of my crafts for Easter for everyone to see at FTLOB, it gives them a chance to get more exposure than if I were to just post on here.
The Craft Extravaganza will be going on from April 1st-23rd, so that gives us all plenty of time to post several holiday ideas. It also gives us plenty of time to find other cool ideas to use before Easter/Passover arrives. Another cool thing about the Extravaganza is that they are going to host one every holiday! We will be able to link our 4th of July stuff, Halloween, Thanksgiving and Christmas, so cool!
Thank you ladies for hosting the Extravaganza! I think it will be great!
So friends, pass the word along, tell your friends so they can post their ideas and we can all have a huge bank of holiday ideas. I can't wait to see what you share!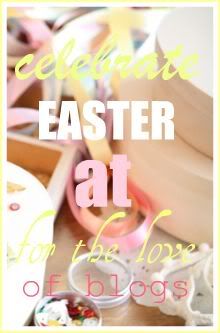 Have a wonderful humpday!