I'm Kassi and I blog over at Truly Lovely!!
On my wedding day in July!
I am THRILLED to be here while Miss BJ is taking a break and enjoying her new little man!!!
Truly Lovely is a blog about all things my sister and I consider to be well.... LOVELY.
A lot of those lovely things include crafts...
My mister and I were supposed to get married June 18th, but because of the Wallow Fire in Arizona we had to postpone it until July 9th.
You can read about that here, if you'd like.
Here's a Truly Lovely button in case you're looking to spice up your sidebar in the meantime... ;)

My sister Kayli shares her lovelies on the blog from time to time as well.
It's a great way to get ideas and meet new bloggie friends.
Hope you'll stop by our
Fancy This Fridays link up over
the weekend where you can showcase your projects from the week!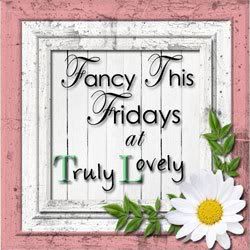 Hope you'll pop over and say hello sometime... :)
Have a lovely day friends!!!